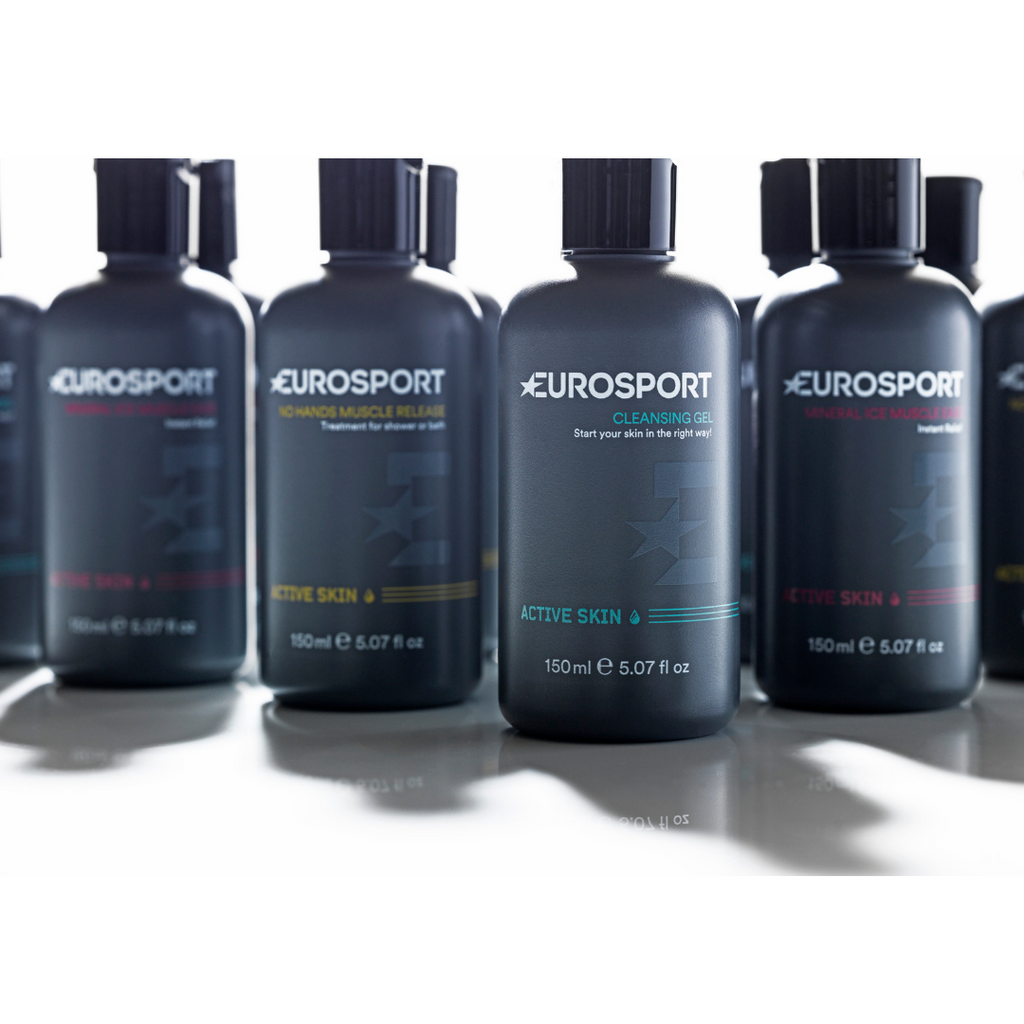 Eurosport presents Active Skin, the new skincare brand created to protect and condition the skin, so that when we push ourselves to the limit it won't let us down.
Developed in partnership between Eurosport and Sian Jones and the team at Lionstooth Development, this is a serious range of 12 products that combine expert knowledge and experience of sport with state of the art skincare development and modern active ingredients.
Eurosport is the 'home of sport' and their purpose is to inspire people to live a life of sporting exploration and equip them to push their limits and fuel their passion. The range has taken over two years to formulate with meticulous attention to detail and testing ensuring each product meets its objective. 
"In our conversations over the two years that we formulated and developed the range, the most common complaint that people undertaking exercise and sport had, was that their bodies and skin hurt – and it was this we set about amending!  It was also clear that most people were not consciously looking after their skin to this end, that pain and discomfort was accepted – we knew we could make a difference!" Sian Jones, Lionstooth Development MD
Modern skincare actives have been maximised to create ergonomic products that are multi-functional and value added.  Fine molecular Hyaluronic Acid ensures the Good Night's Sleep Eye Cream and Multi-tasking Moisturiser smooth, fill and intensely hydrate – binding over 1000 times its body weight in water into the skin.  Vitamin C powers the Cleansing Gel to stimulate, brighten, and refine the surface of the skin whilst gently lifting pollution, sweat and daily grime.  Lactic Acid combines with physical exfoliants in the 60 Second Mask to quickly improve the tone and texture of the top layers of the skin without irritation. 
"We were concerned that exercise and sport orientated products had often been the poor relation of the beauty industry – with more being said about the brand and packaging than the ingredients, benefits and the product itself.  With Active Skin we put innovation and results at the core of the brand right from the beginning." Ed Rolls, Cosmetic Chemist
Investment into the products' ingredients and formulations has been front and centre therefore, with very little being put into the other traditional areas of the beauty industry such as over-packaging, complicated branding, celebrity endorsement etc. In turn this has meant the brand has kept to its pillar to be accessible to all, from the armchair athletes to the weekend warriors to the serious contenders. So prices are from £8 to £24. 
During lockdown exercise has become more than a way to keep fit –it's an expression of freedom, a way to protect your wellbeing, a safe way to be with your friends and family and even a way to bond and unite communities.  Personal endeavour and exercise has seen an explosion in participation. Cycling, running, online classes, online sports have witnessed a peak of people taking part.  Lockdown has been a time to pause and an opportunity to slow down. The lines between sport and wellness have converged.
People are more acutely conscious of their environment and impact and Active Skin reflects how we now need to prioritise this in our daily lives. 
All our ingredients are biodegradable, do not contain hormone disrupters and zero hidden plastics within our formulations.
It goes without saying that everything is fully recyclable (this is more unusual than it sounds in the beauty industry) but we go much further with 50% of the range being zero waste – with no plastic at all.  The remaining 50% is made from recycled ocean and post consumer waste materials and bio polymers such as Poly Lactic Acid – plus we are working on a full loop scheme to ensure all our packaging is recycled in the most optimum way.  We don't outer package the products and we have zero plastic in our supply chain – again very unusual!
Let us know what you think!